Emerging out of the crossing of two important trade routes, the first documented traces of Berlin go back to the thirteenth century. Since then, it has been an important capital city for many states, from a major principality in the Holy Roman Empire, to the Third Reich. After the Second World War, Berlin was famously divided into an East and West half, with the city again becoming the capital of a united Germany after the fall of the wall and reunification in the early 1990s. The federal state of Berlin now has a highly multicultural population of around 3.5 million people, including significant Turkish and Polish communities. Up to 15 per cent of Berlin's residents are of foreign nationality, with many more having been naturalized migrants or citizens through birth. Berlin is well known for its vibrant art scene and creative industries, as well as for its high-tech economy and significant scientific research faculties. It is also a very green city, with about one-third of its area being composed of parks, gardens, forests and lakes.
Climate
Located on the banks of two rivers that drain into the Elbe, Berlin is located on the European Plain, a large low-lying land that stretches from northern France to Russia, from the Baltic to the Caspian Sea. Built atop of marshy woodland, Berlin has a temperate seasonal climate, with warm, sometimes humid summers with an average high between 22°C and 25°C, and relatively cold winters, with an average low of between −2 and 0°C, with mild chilly seasons in between. The city receives around 57cm of rain annually delivered across 101 rainy days, and it usually receives some light snow in winter, although it generally does not remain on the ground for long.
Climate Adaptation
The Berlin Climate Protection Information Office, known by the acronym BIK, offers an extensive guide to the various climate-related activities and projects in Berlin. It provides a general overview, with a few specific in-depth insights, and a huge array of links to more information. In short, this is a valuable resource for anyone trying to understand climate-change adaptation in Berlin. The BIK was initiated by the Berlin Senate Department for Urban Development and the Environment, and its staff and offices are situated in the Berlin Energy Agency offices. It is financially supported by the gas company GASAG, and Vattenfall Europe, one of the continent's biggest generators of heat and electricity. BIK describe themselves as being tasked with gathering information on climate protection both within and beyond the Berlin Senate and local district administration departments, processing this information so that it is generally understandable, and making it available to any interest parties. This internet platform represents the BIK's central instrument in this regard.
BIK has assembled a database which showcases, as of the start of 2016, over six-hundred practical climate-related projects. This database intends to present these climate protection projects as practical models in the hope that they can motivate other initiators to become active in taking climate action. The list of projects is very diverse, with a few examples including; 'Car-sharing concept for the district of Pankow'; 'Young Reporters for the Environment'; 'Optimal traffic flow for the Berlin area' and 'Energy renovation of the community center "The Ahrenshooper." Many of these projects are also visualized on a map of Berlin.Rather than attempting to summarize this here in text, please visit the website and interact with the map, clicking around and changing the various parameters that can toggle the information presented on it.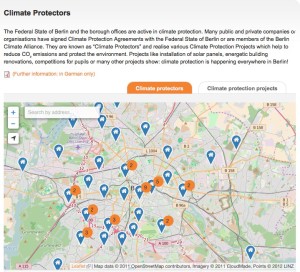 Berlin is also an active member of a number of climate change and sustainability groups, including: C40 Climate Leadership Group, Climate Alliance, Covenant of Mayors, ICLEI, Metropolis, and the World Mayors Council on Climate Change.